OESHIKI (Memorial Day Service for Our Founder)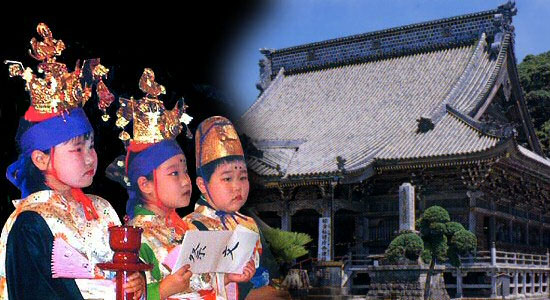 OESHIKI(Memorial Day Service for Our Founder)
This is a mass service in which memories of the late Holy Priest Nichiren are recalled, and thanks are expressed for the Holy Priest having spread the teachings of the Sutra of the Lotus Flower of the Wonderful Dharma (Lotus Sutra). This Sutra is one of the Sutras that Sakyamuni Buddha, or the Sage of the Sakya Clan, preached.
SHICHI-GO-SAN MOHDE(7-5-3 Festival pilgrimage)
This is an event in which children of seven, five and three years of age visit the Temple accompanied by their parents and family members, to express thanks for their having attained their respective ages, and to pray that they will enjoy good health in the future. The precincts of the temple are thronged with many children dressed up in colorful attire.