HON-DOH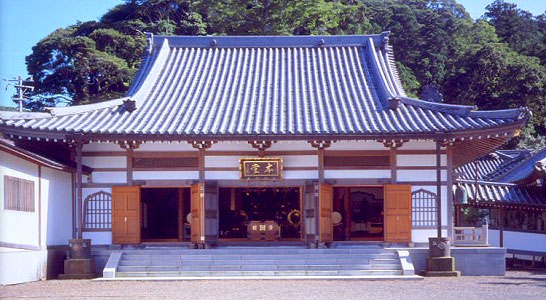 Inside of HON-DOH

A Set of Statues expressing Ten Realms Mandala

Painting, by Master Kyo Ishikawa
HON-DOH (Main Hall)
Completed in Oct. 1991, it is 250 square meters. Enshrined on the alter are wooden statues (carved by Sakyo Hogen Koku, a Buddhist sculptor in Kyoto, in 1684) arranged in order so as to show the mandala honzon (object of worship written in Chinese characters), manifesting the doctrine of mutual possession of the Ten Realms.
They were donated by Tokugawa Mitsukuni powerful feudal lord of Mito Province and a close relative of Tokugawa Shogun.
This set includes a statue of Hariti or Kishimojin, too. The deity, originally of Indian religion, is usually engraved in ugly and horrible styles. The one in this temple, however, is carved as a mother who holds a baby on her breast with her left hand, holding up a twig of pomegranate tree in her right hand. So, it is called the "Baby Protecting Hariti."
At present many temples of Nichiren Shu enshrine this deity, regardless of its looks because it is mentioned in the Lotus Sutra and to help them propagate the Buddha's teaching.
There is a story that one when the Buddha stayed at Rajagrha, some mothers came to ask Him to save them from the horror of Hariti. She had already kidnapped and eaten 999 babies from many families. Mothers in the city were too scared to sleep at all. The Buddha took measures to help them.
One day Hariti found one of her babies lost. The Buddha had hidden it. She missed it so much that she finally became insane, not knowing how to find her lost baby. She asked lots of people if they had seen her missing baby, but nobody knew of its whereabouts. Everything she did was in vain.
In the end she went to see the Buddha, who told her, with all his heart, how sad and desperate those mothers whose babies were missing were. She had many children, and she missed the lost one so much that she had to run around looking for it all over the city day and night.
After talking with the Buddha, she became sane and repented of what she had done up until that time. Under the shade of a big tree she swore to Buddha that she would protect babies and those who believe in the Lotus Sutra that the Buddha preached.
Thus Hariti was saved by the Buddha's hearty guidance and could become a god.
On the ceiling of the sanctum eighty-five pictures depicting Buddhist plants with flowers are painted by Master Kyo Ishikawa.
Right on the center of the altar of the left outer chamber is enshrined a wooden statue of Benzaiten or Sarasvati carved by Master Fusazo Nishimura. This deity for people's happiness was originated in ancient India, and was later adopted in Buddhism.
Enshrined on the left corner of the altar are two images of Kannon and Myoken Bodhisattvas, an amulet which contains the "Jigage" verse (essence of the Lotus Sutra) written in gold ink on dark navy blue paper, and two sets of small images of Holy Priest Nichiren and his parents.
They all had been kept in the private room of Empress Dowager Shoken. Also on the altar are two bottles filled with pebbles, on each of which her Majesty wrote a Chinese character from the "Jigage" verse.
Also placed on the altar are three tables for Emperor Meiji, Empress
Dowager Shoken, and Emperor Taisho; two tables for Prince Taruhito and Prince Takehito of the Arisugawa Family; and three tables for emperors including the Ninety-sixth Emperor Godaigo; one tablet for the close retainers of the Imperial Court.
Enshrined on the altar of the right outer chamber are the statues of the Second and Third Chief Abbots Nike and Niho, together with mortuary tables of the succeeding chief abots of this temple.
The rear room is used for enshrining the mortuary tables of lay followers registered for perpetuity.