KYAKU-DEN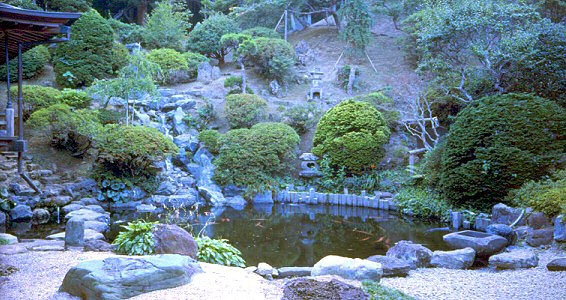 (Structure where Members of the Imperial Family are received)
This is a structure built in 1939 entirely of cypress wood to receve members of the Imperial Family of Japan.
JOHDAN-NO-MA
(Chamber with floor elevatedabove rest of structure's floor)
In the large vault in this chamber is kept a painting of Emperor Meiji(who reigned as Emperor of Japan from 1868 to 1912) painted when His Imperial Majesty was 16 years old.
BOTAN-SAKURA-NO-MA
(Peony and Cherry Blossom Chambers)
These are chambers with staggered shelves (two shelves installed at staggered heights). They are called the Peony and Cherry Blossom Chambers because of the pictures of peonies and cherry blossoms that are depicted on the sliding doors dividing the chambers.
| | |
| --- | --- |
| JOHDAN-NO-MA | BOTAN-SAKURA-NO-MA |